The Reports page (Analytics > Reports) is your main tool for analyzing your marketing data. Use this FAQ to learn about the different tools it offers and to troubleshoot common issues.
To get your data via API instead, see Introduction to the Singular Reporting API.
Troubleshooting
Discrepancies with Other Data Sources
Missing or Unexpected Data
Error Messages and Delays
Why does it say that my data is "not yet updated"?

Data for each day is supposed to be available for you in Singular the next day at 8:00 AM, your local time (this is the default time; if you have asked for a different hour, expect your data at that hour).
If you see a notification that certain networks "are not yet updated for the chosen report dates", it means one of the following:
The date range in your report query includes today.
The date range in your query includes yesterday, and you have run the report before 8:00 AM.
If it's past 8:00 AM and you run a report for yesterday, and you still get the "data not yet updated" message, there is probably a technical problem delaying the data pull from the specific ad network.
Data delays can be caused by connection problems, bugs, system downtimes on the ad network's side, etc. The Singular team is alerted about data delays automatically and immediately begins working on the problem.
In the meantime, go to the Data Connectors page to make sure there isn't a problem with the connection to the ad network.
Why does it say "Please filter for a single app/source to get publisher data"?

Breaking down your report by publisher (the app in which the ad was served) creates a very high volume of data. Therefore, if you select the dimension(s) Publisher ID, Publisher Site ID, and/or Publisher Site Name, Singular needs you to filter the report to one app and one source.
For example:

Why are my reports slow/crashing with runtime errors?
If you are using the Singular web app and experiencing abnormally slow response times, runtime errors, or other issues, the source of the problem may be invalid information stored in your browser.
You may be able to solve the problem quickly just by clearing your browser cache.
For help, see Solving Runtime Errors and Other Issues Caused by Your Browser Cache.
You can also now download your report instead of running it. When you select your dimensions, you may see the following prompt which encourages you to download your report.

FAQ
Building the Report Query
Working with the Report Table
Saving, Sharing, and Exporting Reports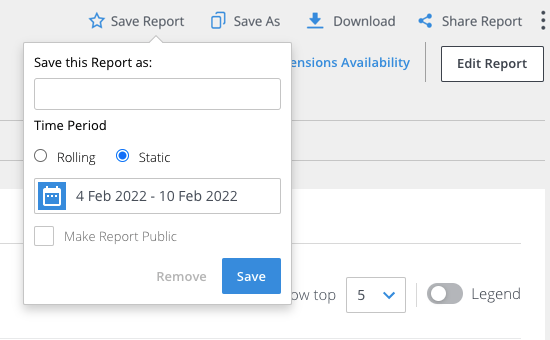 How can I save my report query in order to run it again in the future?
To save ("bookmark") a report, first run a report, then go to the toolbar on the top right and select Save Report. You can continue working on your report after you save it.
Important: If you save any edits using Save Report, it'll overwrite your saved report. To create a new copy of your report instead, use Save As.
In the menu that opens, you can select the report time period in two ways:
Rolling: your saved report will be based on a relative time range. Options available are last 7 days, last 30 days, this month, last month, or custom. Custom allows you to define a specific number of days back.
Static: your saved report will be based on a fixed time frame. With this option, saved reports will always return the same time range you have chosen.
Also, you can select the Make Report Public checkbox to allow other Singular users from your organization to view the same saved report. For information about inviting people in your organization to use Singular, see Team Management.
How can I access my saved reports?
Open the Saved Reports dropdown at the top of the page to see your personal saved reports as well as any reports that have been shared with you.
Select a report to run it.
How can I create a new report after viewing a saved one?
Click on New Report. You can also click on Analytics > Reports and it will load a fresh, unsaved report.
How can I remove a report from my saved reports?
Click Saved Reports at the top of the page to display the list of saved reports.
Hover over the report you want to remove.
Click the trashcan icon.
Confirm the action by clicking Yes, delete report.
You can also:
Click Saved Reports at the top of the page to display the list of saved reports.
Select the report to run it.
Click Save Report in the top right toolbar.
Select Remove.
How can I download a report?
You can download your report as a comma-seperated values (CSV) file by clicking the Download button in the top right corner.
General