SKAN Advanced Analytics is a series of features offered by Singular to improve SKAdNetwork reporting capabilities. Singular uses proprietary data-science models to supplement partial SKAdNetwork data with modeled (extrapolated) metrics.
SKAN Advanced Analytics metrics are available in the SKAdNetwork Report (see SKAdNetwork Report FAQ) and the SKAdNetwork Raw Data Report (see SKAdNetwork Raw Data FAQ).
Update (July 2023):
Modeled cohort metrics are now available for hybrid SDK+S2S Singular integrations as well as pure Singular SDK integrations.
Modeled cohort metrics are now based on MMP data for improved accuracy. This means they are available even when there is no revenue model defined.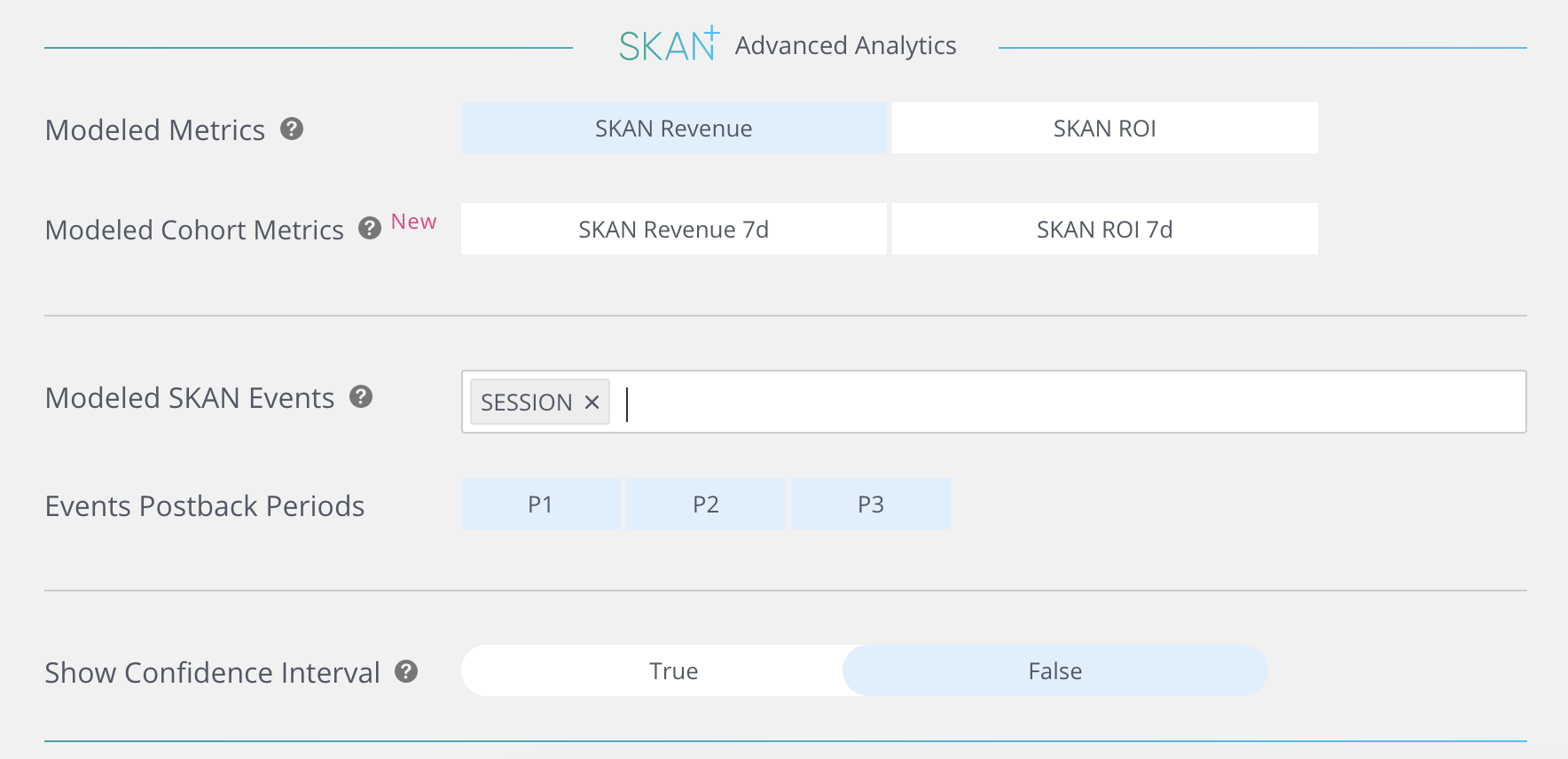 FAQ
What are modeled metrics?
Why are modeled metrics needed?
For most iOS 14+ app installs, any information about user behavior - including post-install interactions with the app and how much revenue they brought in - is encoded in the conversion value that is included in Apple's SKAdNetwork postback.
However, not all postbacks contain a conversion value. Apple censors the conversion value for privacy reasons when the number of installs for a campaign doesn't reach a certain threshold. This results in installs for which we don't have any data apart from the app and the attributed network.
To bridge this gap and offer you a fuller picture of the results of your marketing efforts, Singular offers modeled metrics, which are extrapolated from the existing data.
What can I do if the data looks inaccurate or the confidence intervals are high?
To improve the accuracy of modeled SKAN cohort metrics, you can try the following:
If Singular is offering an optimized model, use it. Optimized models are offered if they are believed to improve the accuracy of your results significantly (learn more in the Optimized Models FAQ). To check, go to the SKAdNetwork > Model Configuration page and select an app. If an optimized model is available for the app, you will see a message in green.




Use models with better predictive power. Typically, this means mixed models, which take into account both revenue and other user behavior.
Increase the size of the campaigns (run fewer campaigns). Campaigns with more installs are easier to model for.
Modeled Metrics in the SKAdNetwork Raw Data Report
How does Modeled Conversion Value Count work?
The Modeled Conversion Value Count estimates how many installs in a campaign had a specific conversion value.
This is calculated based on the prevalence of these conversion values in the installs we do have conversion values for.
In the example below, in a campaign with 105 installs, only 35 had conversion values included in the postback. The Modeled Conversion Value Count shows how many installs had each conversion value if we assume that the partial data is representative of all the installs.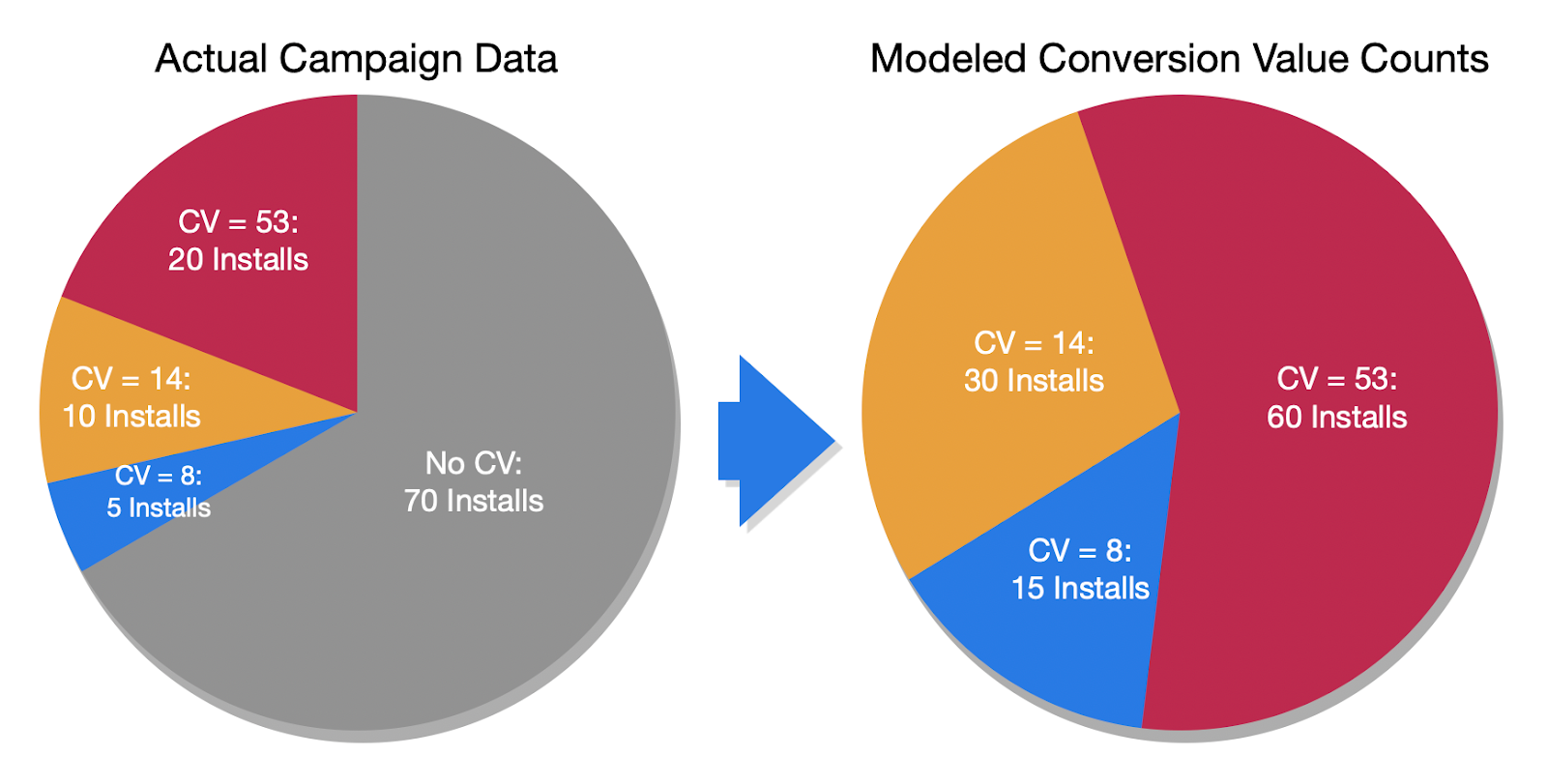 Modeled Metrics in the SKAdNetwork Report
Troubleshooting