The Model Configuration page (SKAdNetwork > Model Configuration) lets you configure the SKAdNetwork conversion models you will be using to run SKAdNetwork campaigns for your apps.
A conversion model is a way to encode as much information as possible about the user and their post-install activity into the limited space allowed by Apple's SKAdNetwork framework. Singular offers different types of conversion models. Each one focuses on a specific type of information, such as revenue or conversion events, and leaves out other types of data.
Updates [February 2022]:
New mixed models allow you to track both revenue and another type of KPI, such as events or engagement.
Singular now offers auto-generated optimized models to measure in-app purchase revenue. Learn more in the

SKAN

Optimized Models FAQ.
Before you start configuring conversion models, be sure to read the following guides:
General Concepts and Planning
Types of
Conversion Model

s
Configuring a New Conversion Model
How do I configure a new conversion model?
When adding events to a conversion model, does the order in which I add them matter?
No, the order in which you add events does not matter. Specifically. when using the Conversion Events model, Singular will update the conversion value when at least one occurrence of the selected event(s) or combination of selected event(s) has occurred.
What is "Analyze Model"? How do I use it to help me pick a conversion model?
Once you've configured a model, you can expand the Analyze Model section and click Download Analysis Report. This will download a report estimating what metrics you would get using the current model, based on installs and events data that Singular has tracked based on your SDK/S2S implementation.

The report estimates what the SKAdNetwork metrics (installs, events, and revenue) would be if you used the current model you've configured, as compared with the actual metrics you have tracked outside of SKAdNetwork.
To calculate the estimated SKAdNetworkmetrics, Singular takes into account your real data from your users' devices, the settings of your conversion model, and the various properties and limitations of the SKAdNetwork framework.
The resulting report (see details below) should help you decide whether the model gives you enough information or whether you should tweak it or use a different type of model.
Tip: You can also use the Analyze Model shortcut from the model summary page to run an analysis report on previously created models. The report will run on events from the last 7 days. To select a custom period, select Edit to open the configuration panel.
How do I read the analysis report? What do the different fields mean?
When you select Analyze Model, the resulting CSV file contains the following columns (in addition to some other columns depending on the specific model and the events you selected).
Use the report to get an estimation of your model's performance.
| | |
| --- | --- |
| Column | Description |
| Install Date | The app install date, as calculated by Singular. |
| App | The name of the app. |
| Source | The name of the partner network that the app install/reinstall has been attributed to. |
| Model Name | The name of the conversion model chosen for analysis. |
| SKAN Installs | The estimated number of SKAdNetwork installs on the "install date". This metric is calculated based on non-organic, last-click installs (these are the only installs supported by SKAdNetwork). |
| SKAN [Conversion Name]* | The estimated number of conversions this conversion model will attribute. This metric will be calculated with cohort periods of 1d and up to your model measurement period. |
| Reported [Conversion Name]* | Your current conversion metric. This metric will be calculated with cohort periods of 1d and up to your model measurement period. |
| [Conversion Name] Ratio* | The ratio between your estimated SKAN conversion metric to your current conversion metric. This ratio is calculated only on the last cohort period which is also your measurement period. When this ratio is close to 1 it means that your estimated SKAN metric is almost equal to your current metric. |
How do I activate a conversion model?
To activate a conversion model you created:
Toggle the model On.
Click Submit.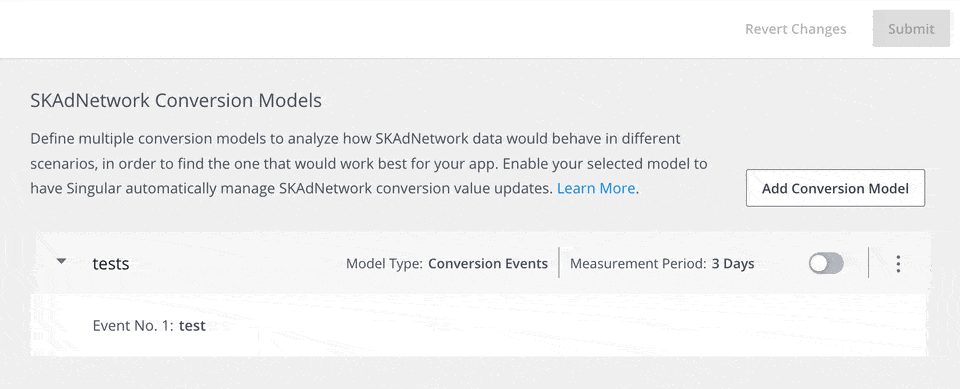 Working with the Conversion Management Dashboard