Learn what Singular does, why we have over 1000 integrated partners, and why and how you can integrate with us too.
What is Singular?
An industry leader in marketing analytics and attribution tracking, helping advertisers get a complete view of ROI with next-generation attribution and full-funnel marketing data that seamlessly integrates with their internal BI tools.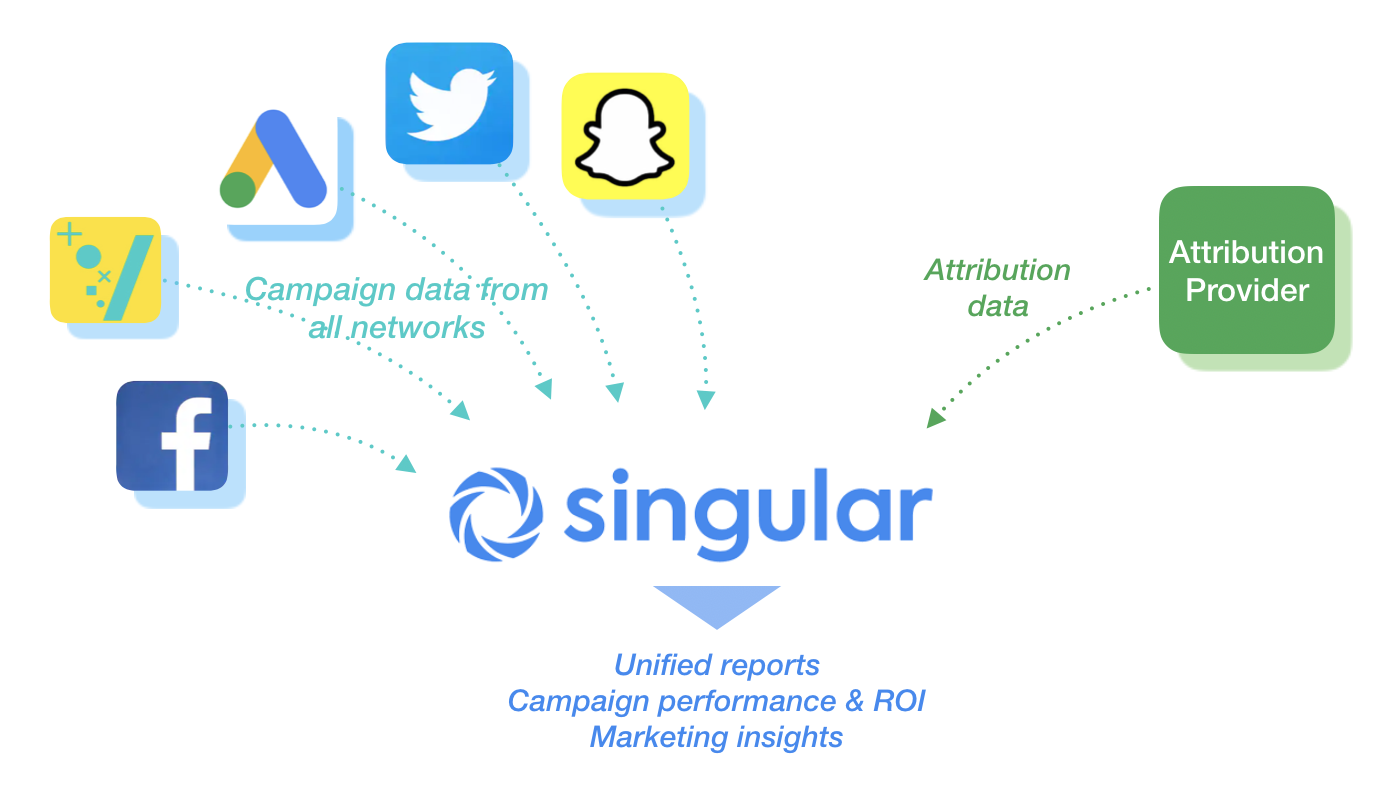 Singular gives advertisers a unified view of all their marketing data in once place in order to empower them to make better decisions.
What Singular does:
Automatically pulls marketing performance data from all of the advertiser's ad networks, agencies, and other sources into one database.
Combines this data with attribution stats pulled from Singular's native attribution solution or a third-party attribution tracker used by the advertiser.
Presents the combined data in dashboards and reports that provide customized performance and ROI insights. The data is presented in a high level of granularity, with breakdowns by app, campaign, targeted country, publisher app, creative, and more).
Attribution Tracking
One of the products Singular offers is a native attribution tracker that provides attribution data in an exceptionally high level of granularity.
Many of our customers use Singular as a unified solution (for attribution and analytics) that gives them the best view of their marketing performance.
Why Does Singular Need Partners?
In order to pull data from all the sources as described above, Singular is integrated with over 1000 companies, including ad networks, agencies, self-attributing networks, BI services, and more. You can browse the full list of partners to get an idea of who we work with.
We keep developing new integrations to meet the needs of our customers - but we need you to help us do it.
Types of Partner Integrations
There are several different types of integrations Singular develops with partners.
We may want to develop one or more of these integrations with you - depending on the needs of our mutual customer.
Analytics Integration (Data Connector)
You are an ad network or ad agency, and our mutual customer runs marketing campaigns through your platform.
We want to create a data connector that pulls the advertiser's aggregated marketing campaign data from you every day in order to present up-to-date data in our analytics reports.
The way we build the connector is highly flexible and depends on the way you present data to your customers. We can pull data from your API if you have one, read it from your dashboard, automatically parse an email report, or even ingest a report file from Google Drive or Amazon S3.
Attribution Integration
You are an ad network or ad agency. We have a mutual customer that uses Singular as their attribution provider, and we want to integrate with you for the following purposes:
The customer will want to use Singular tracking links for when end-users engage with the ads that you serve.
You can also receive information from Singular in the form of automated postbacks that notify you about attributed installs, etc.
Or, you are a third-party analytics platform, BI system, fraud analyzing service, etc. We have a mutual customer and they want you to receive information about attributed installs and other events from Singular. We provide the information in the form of automated postbacks.
Why does Singular ask for so many macros?
When we offer the customer the full view of their marketing performance and ROI, we strive to offer the highest granularity - including creative-level and publisher-level breakdowns, when possible.
This is why need as much information as possible about every click on our tracking links. We will ask you to give us your macros for the ad group (ad set), creative ID, publisher app, and more, so we can incorporate these macros in our tracking links.
When our attribution integration receives details such as creative or publisher, we can match that information (in aggregate) with the campaign data coming in through the analytics integration and provide a highly granular and valuable report.
Other Integrations
Singular provides other services, such as ad monetization reporting and audience management.
If our customer requires this type of integration with your service, we will contact you in order to explain the service and how we can work together in order to create an integration.
Why Does Singular Need Multiple Integrations with You?
We may want to create more than one type of integration with your product.
For example, if you are an ad network, we often want to create both an analytics integration and an attribution integration with you.
Note: This happens when we have a mutual customer that uses Singular as both their marketing analytics platform and their attribution tracker.
The two integrations have different functions and we need different information from you in order to create each one:
What it does
What we need in order to create it
Analytics integration
Lets Singular pull campaign data from you every day

Access to the data
For you to provide the highest granularity of data you can (breakdown by country, campaign, publisher, device OS, etc.)

Attribution integration
Lets Singular create tracking links that pass as much info as possible about the click/view
As many macros as possible (to pass the country, publisher, app, OS, etc.)
Lets Singular sends postbacks to you
Remember that our goal is to combine campaign data and attribution data in order to give the customer a unified, high-granularity report.
For that purpose, we need to get the most detailed breakdown of data we can, both in our analytics integration and our attribution integration.
What's the Process of Integrating with Singular?
To start the process, do the following:

Read the guide(s) that apply to you:
Prepare the necessary information according to the guide.
Fill out the Singular partners form.

We will review the form and contact you to let you know if we have any questions or if we have all the information we need.
We will create the integration(s). When we're done, we'll let you know, and activate the new integration for the customer.
We will also add the integration to the list of Singular integrations available to customers. Future Singular customers who are also users of your service will also be able to use the integration.