Singular Links
Build a Tracking Link
Customize your links
Learn about Singular tracking links, how to build them, and deploy them for your business needs.
What is a
tracking link

?

When a user views or clicks on one of your ads, they activate a tracking link that notifies your MMP. The MMP uses the information in this link to track mobile app installs, re-engagements, and other information.
What are Singular Links?
Singular Links is an advanced tracking link solution that provides a friendly UI for creating and managing tracking links, as well as several link customization options. They automatically leverage iOS Universal Links and Android intent technology to create deep links wherever possible.
There are two types of Singular Links - Partner and Custom Source.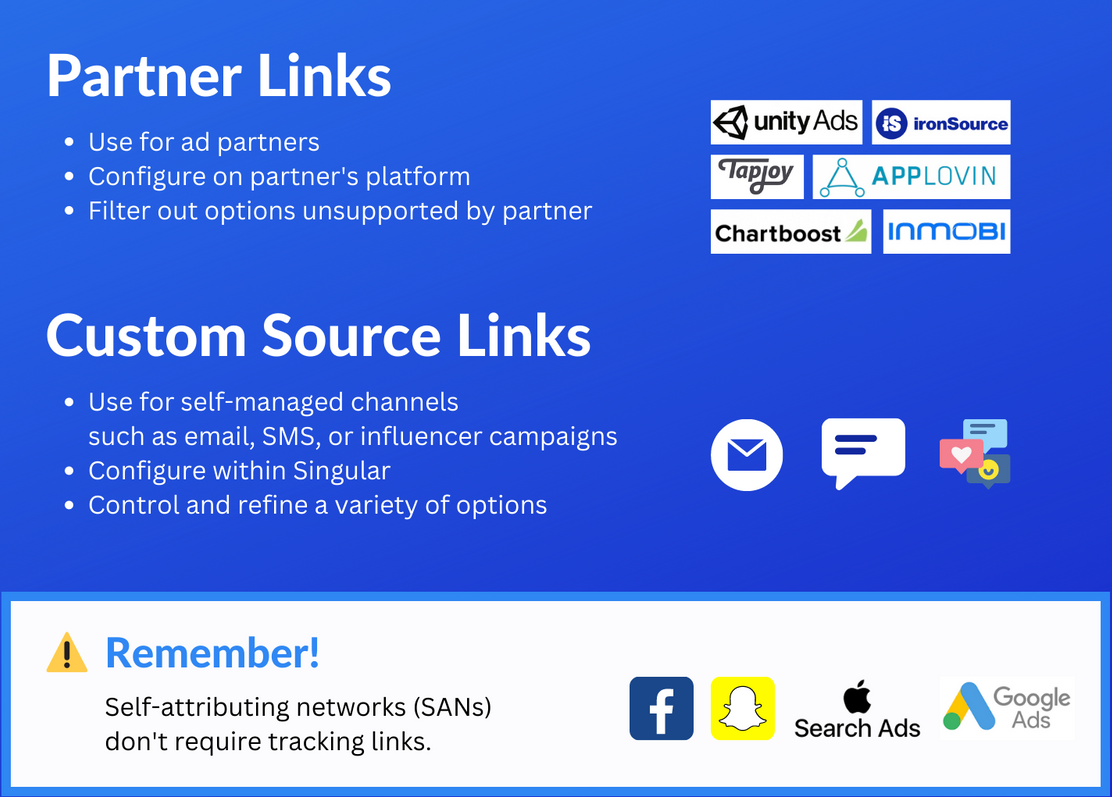 If you are working with an ad service provider, create a Partner tracking link. If you manage your own email or influencer campaigns, create a Custom Source tracking link. In Singular, go to Attribution > Manage Links to get started.
Important:
Tracking links are not supported by

SAN

s. Attribution information is passed directly between Singular and a SAN through our integration. Simply configure them as a partner.
Tracking links are for Android and iOS only. To create web links, see Creating Website Links.
Most partners offer a single tracking link for Android and iOS platforms. However, some partners only support one platform on a single tracking link.
Tracking links will automatically include partner macros that enable the partner to send Singular information about the campaign.
Build a tracking link with Singular Links
To build a tracking link, ensure you've first performed the 4 steps in Set Up Singular.
For partner links, you must have configured the attribution integration as shown in step 3.
Go to Singular > Manage Links.
If you haven't created a subdomain for your links, click Manage Link Domains. Type a subdomain name, click Create, and then click Done. [?]


Singular links follow the format:

https://[SUBDOMAIN].sng.link/[PARAMETERS]

Select your app and click 'Create Link'. A shelf opens.
Select the link type - Partner or Custom Source.
Under the Source Name dropdown, choose your ad network or custom source, and under Tracking Link Name, provide a descriptive title.
More sections are enabled. Choose your options for each and click Save.
After you've created your Singular link, you have the freedom to dynamically override Android, iOS, and Website link re-directs without having to modify them in the dashboard. You can also freely edit link parameters. [?]
Customize your link further
FAQ and Troubleshooting