Setting Up Google Ads (AdWords)
Tracking and

Postback

s
Configure attribution integration
Integration Summary
(See Partner Integrations Glossary)
| | |
| --- | --- |
| Partner | Google Ads |
| Partner Type | Self-attributing Ad Network |
| Creatives | Not Supported for App Campaigns |
| Publisher | Not Supported for App Campaigns |
| View-Through | Supported |
| Re-engagement | Supported |
| S2S | N/A |
| Click Tag | No (Self-attributing) |
| Receiving All Installs | Recommended (Self-attributing) |
| Receiving All Events | Recommended (Self-attributing) |
Introduction to Google Ads
Google App campaigns (formerly Universal App campaigns) help you promote your mobile app across Google's various networks. By configuring Google Ads as a partner, you can let Singular track the performance of your app promotion campaigns across Google Search, YouTube, and over three million sites and apps. You can track both click-through and view-through campaigns.
Note: Google Ads' view-through attributions are based on MRC definition of viewability and are only available for Youtube and Display networks.
Google Networks
| | |
| --- | --- |
| Network | Description |
| Google Search | These are text ads appearing on Google Search, the Google Search App, and Google Play. |
| Google Display | These are image ads in mobile applications and mobile web browsers that can link to your mobile website, mobile app, or app store. |
| Google Ads for Video (Youtube) | These are video or text ads appearing in the Google YouTube iOS or Android apps. |
Google Ads Campaign Types
| | | |
| --- | --- | --- |
| Type | Description | Singular Tracking |
| App Campaigns | App Campaigns is a one-stop-shop to promote your mobile app on all available networks. These ads are auto-generated based on the creative text you enter. Available for both iOS and Android apps. | Installs |
| App Campaigns for Engagement | App Campaigns for Engagement help your current app users take specific in-app actions to improve user retention and long-term revenue. | Re-engagements |
How
Attribution

Tracking with Google Works

Singular tracks Google Ads campaigns via a self-attributing server-to-server integration, which includes:
Tracking all installs and re-engagements driven by any of your Google Ads campaigns
Both click-through and view-through attribution
The integration uses a Link ID, which is generated in Google Ads and unique to each app. Once your Link ID has been configured in Singular, Singular will start sending all installs, sessions, and configured in-app conversion events to Google. Using the attributed click information returned from Google, Singular can perform last-touch attribution (learn more in Singular's Attribution Process) and offer you reports on your campaigns' performance using the same granular campaign information you receive in your Google Ads dashboard.
Integration Steps
Prerequisites
Integrate the Singular SDK (see instructions). If your application supports deep links, make sure to implement deep link support on iOS and Android.
1. Get Your App's Link ID
Generate a Link ID in your Google Ads account, as explained in Google's instructions. There are two ways to generate a Link ID to use with Singular. We recommend using cross-account conversion tracking with an MCC account. If that isn't possible, you can also share a link ID with another Google Ads account.
2. Set Up the Integration in Singular
In your Singular account, go to Attribution > Partner Configuration and search for "AdWords".
In the configuration window that opens, select the app and app site you want to configure AdWords for, and provide your app's Link ID.
Default settings:
View-through Tracking: Enabled by default.
Re-engagement Tracking: Enabled by default and mandatory if you are running re-engagement campaigns with Google.
Click-through attribution window: You can customize this setting. 
Any available post-session app events are automatically included by default, with the option to exclude. Under "Google app event type" you will find a list of Google's predefined events. Map your events to the equivalent Google event, or leave the event as "custom".
Note: Sessions (to enable re-engagement) are automatically sent to Google. No additional configuration is required. This is required per the Google Ads integration.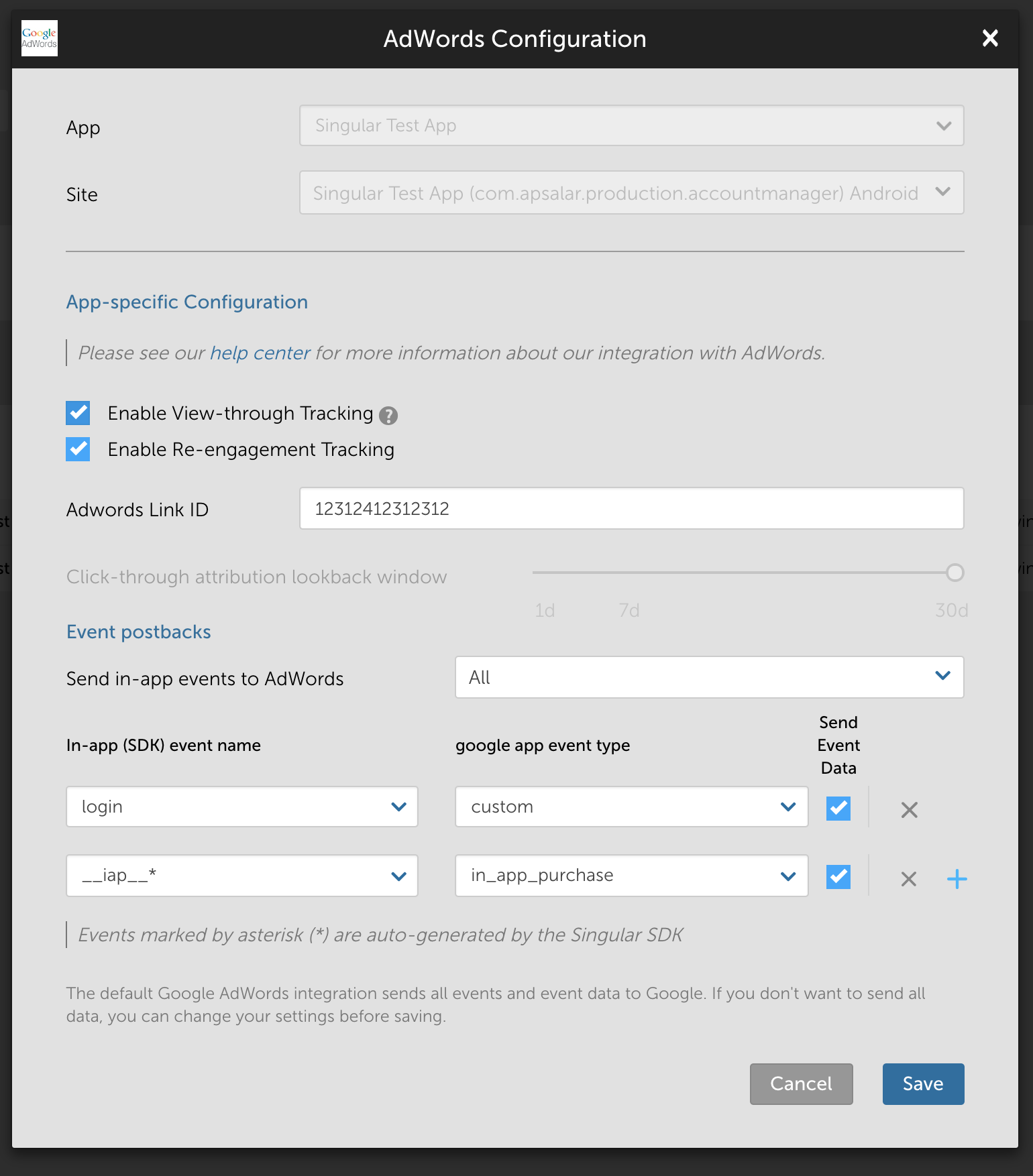 3. Import Events into Google Ads and Configure Your Campaigns
To begin tracking conversions and events related to Google Ads campaigns, you first need to go to your Google Ads account to set up your conversion actions - also known as importing events.
See Google Ads Attribution Integration: How to Import Events for detailed instructions.
Note: The events show up in Google Ads after at least one conversion event occurred since setting up the configuration in Singular (not just events that are attributed to Google Ads).
For live apps with thousands of active users, this usually happens within a few minutes, but if you are testing a new app without any active users, you have to trigger the events yourself. Then, make sure that the conversion is enabled - this might have to be done through the MCC account if you are utilizing cross-account conversions.
Next, you can configure and start your Google Ads campaigns. Follow Google's instructions to learn more about your options and how to configure them.
4. Verification - Singular Reporting for AdWords
Once an attribution is tracked, your Google Ads campaigns will appear in your Singular Reporting interface. 
Singular supports reporting attributed Google Ads app campaign data for click-through and view-through installs and re-engagements. Currently, the available data includes the Google campaign ID, campaign name, and ad group ID, along with the Google channel (Youtube, Display, Search). This data is mapped to Singular as "Campaign ID", "Campaign Name", "Sub Campaign ID", and "Sub Ad Network", respectively.

Note that "conversions" in Google Ads refer to both installs and re-engagements in Singular.
In addition, there are inherent discrepancies between Google Ads and all third parties, as outlined in the Google Ads documentation.
FAQ
Why can't I see iOS Google Search attributions?
Starting January 2020, App Campaigns for Installs for Search are no longer attributed by Google Ads, and therefore aren't shown in user-level reporting. For more information, see Google's announcement. 
Partner Data Policies
As a Google App Attribution Partner, Singular adheres to the following data handling requirements required by Google:
Data Retention: Google Ads user-level data is removed after 6 months of original attribution.  After 6 months, users attributed to Google Ads as treated/marked as "

Organic

" and reflected as such in both aggregate and user-level reporting in Singular.