Update (August 18, 2021): When importing an Events type conversion model to Facebook, there's an extra step where Facebook asks for one event to optimize for. See Import Conversion Model below.
Learn how to set up Singular's SKAdNetwork integration with Facebook, which supports all Facebook campaign types. Learn how to use the right conversion model for each campaign type.
To learn about Singular's other integrations with Facebook, see:
Integration Summary
SKAdNetwork Postback Handling
N/A
Conversion Value Decoding
Supported
Campaign Data Enrichment

Supported

Due to data being aggregated at the campaign level, Facebook's reporting at the ad set is partial.

Where available, the supported granularity is:
• Campaign Name
• Campaign ID
• Sub Campaign Name (Ad Set Name)
• Sub Campaign ID (Ad Set ID)

Campaign Data Granularity
Supported
Introduction
Apple's SKAdNetwork framework allows ad networks (and advertisers) to receive some data about app installs attributed to their campaign without compromising the end-user's privacy. All the data about the app install and post-install events have to be contained in a single number from 0 to 63, called the conversion value.
Singular's SKAdNetwork solution offers several different ways to encode data into the conversion value, depending on whether the advertiser is interested in optimizing for revenue, retention, or other KPIs. Each encoding method is called a conversion model.
Facebook's install, app event optimization, and value optimization campaigns in SKAdNetwork are supported through conversion models, which Facebook calls this "configuration schemas." By following the steps in this article, you'll be able to "Import" your Singular conversion model into a Facebook "configuration schema" so Facebook can optimize against SKAdNetwork.
After successfully importing a "configuration schema," you'll be able to start SKAdnetwork-enabled campaigns with Facebook, and the resulting performance data will be available through your existing Facebook data connector.
See also: Facebook's article on considerations for iOS 14 and SKAdNetwork measurement.
Note: Facebook does not forward SKAdNetwork postbacks, and as a result, postback data is not available in Singular's Data Destinations (ETL) or User-Level Logs.
Setup Instructions
1. Implement Singular's SKAdNetwork Solution
If you haven't done so yet, add SKAdNetwork support to your Singular SDK Implementation (see iOS SDK: Adding SKAdNetwork support) or S2S integration (see SKAdNetwork S2S Implementation Guide).
Reminder: You can only have one SDK managing SKAdNetwork conversion values in the same app. The Facebook SDK will automatically stop managing SKAdNetwork if you follow step 4 in these instructions. However, you should ensure that any other SDKs in your app are not managing SKAdNetwork and interfering with your Singular conversion model implementation.

2. Configure a Conversion Model
In the Singular web app, go to SKAdNetwork > Model Configuration and select Add Conversion Model. Select a Singular conversion model for your app. Certain Facebook campaign types require specific conversion models. For more information, see What conversion models are supported with Facebook's campaign types?
Important: Facebook requires that all measurable conversions occur within 24 hours of the install, regardless of the campaign type. Make sure to set your Singular conversion model measurement period to 1 day.

3. Map Conversion Model Events to Facebook Events
If you're using a Singular conversion model for SKAdNetwork, make sure that every event defined in the conversion model is mapped to a Facebook event in Attribution > Partner Configuration.
This step is required for the Singular conversion model to appear in Facebook's conversion schema dashboard. Unmapped events will not appear or be used in Facebook's campaign optimization or reporting.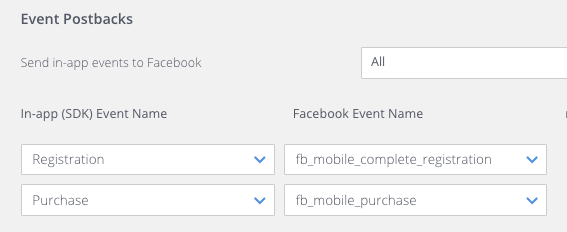 Important:
In Partner Configuration, don't map SDK events to "(Use SDK Event Name)." Always use a Facebook standard event.
If you're using a revenue conversion model, map the "__REVENUE__" SDK event to "fb_mobile_purchase."
If you're using a model other than revenue, e.g., a conversion events model, don't use the "__REVENUE__" SDK event. Instead, map your specific SDK events (whether they involve revenue or not) to appropriate Facebook events.
4. Import Conversion Model in Facebook Event Manager
Go to the Facebook Event Manager dashboard and follow the instructions below (for additional guidance, see Facebook's Event Manager documentation).
Go to the Facebook Event Manager's SKAdNetwork Event Configuration.
Select Settings > Set Up Events.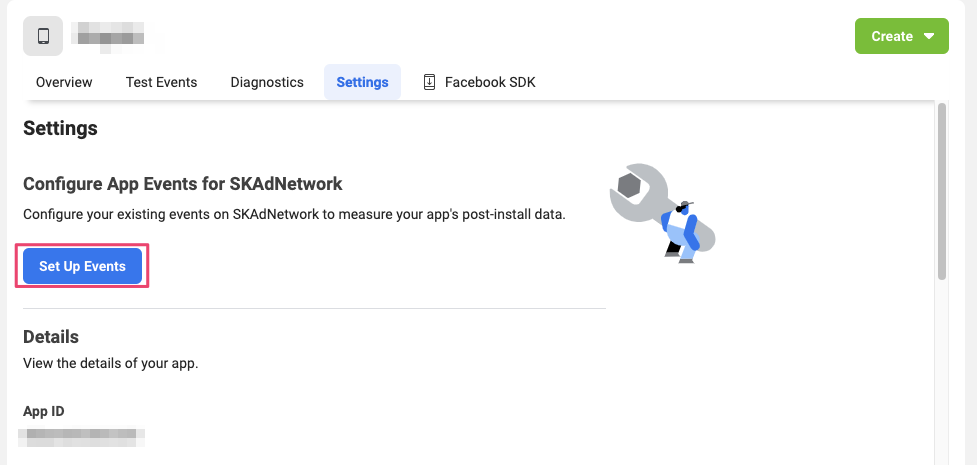 Select Import from Partner App. If the "Import" option is not available to select, it may be that Facebook has not received app events for your app before. To enable this option, ensure that your Facebook partner configuration is enabled and that Facebook has received some events.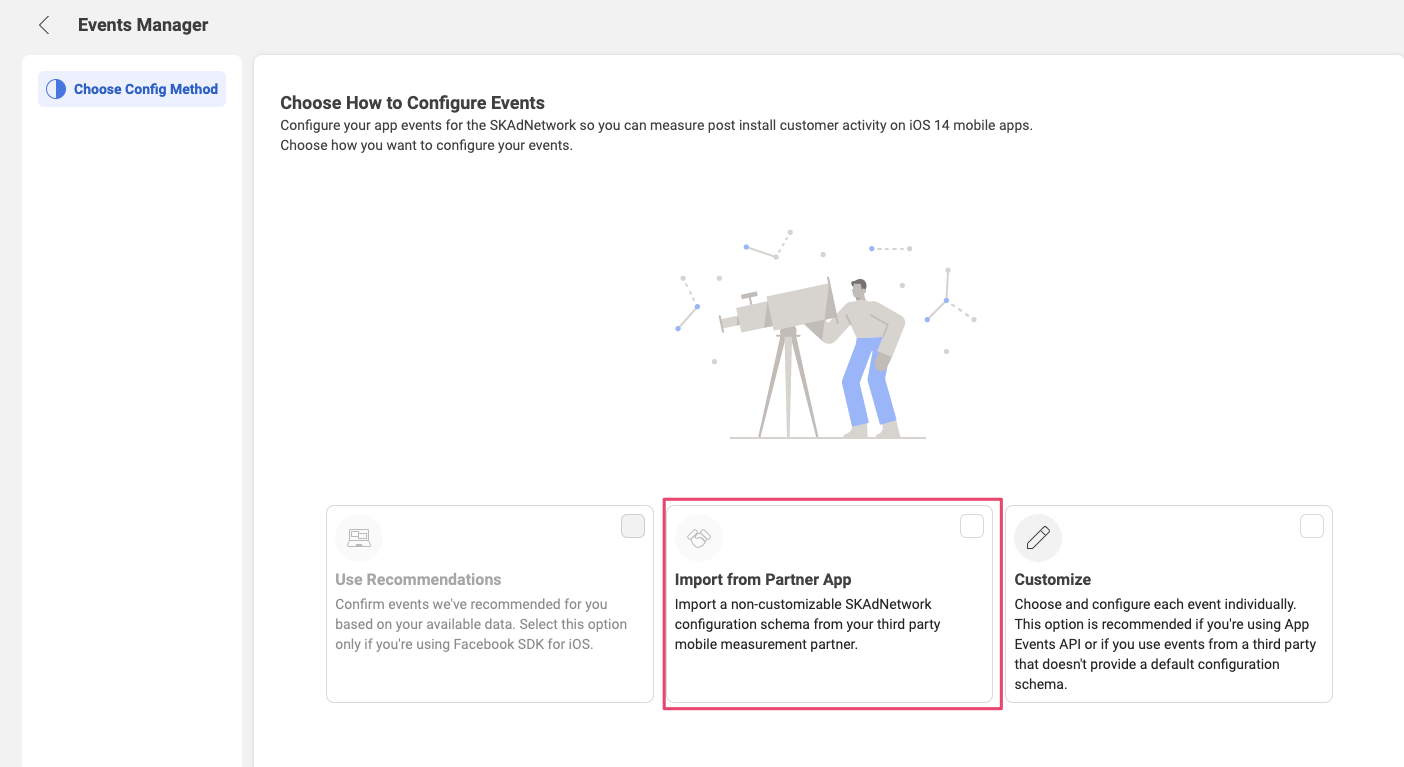 On the following screen, Facebook will prompt you to enter an MMP URL. Construct the following URL and enter your app's App Store ID in the app_id parameter:

https://api.singular.net/api/skadnetwork/conversion_info?org_type=partner&app_id=[your_app_id]

For example:

https://api.singular.net/api/skadnetwork/conversion_info?org_type=partner&app_id=1441750662

Once you've imported your Singular conversion model(s), you'll be able to view them on the subsequent screen.
Note: If you've imported an Events type model, Facebook asks you to choose one of the events for optimization purposes.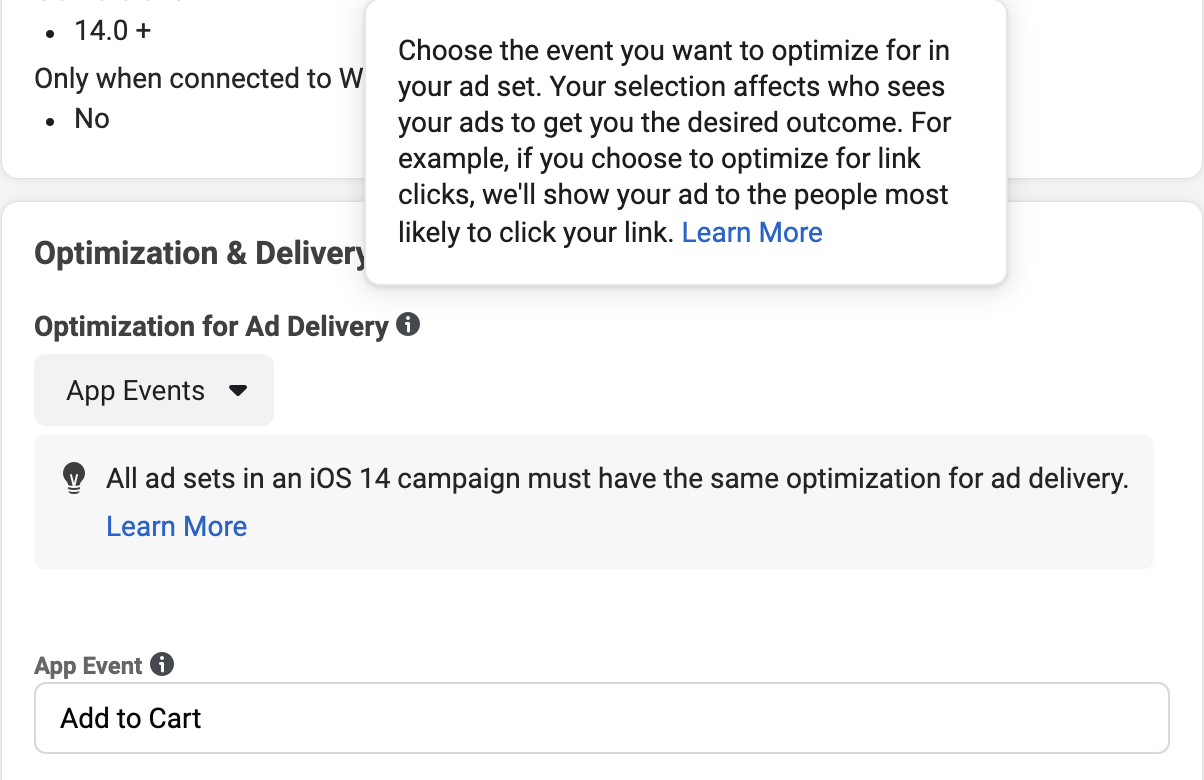 FAQ and Troubleshooting