Learn about Singular's integration with TikTok and how to add TikTok For Business as a partner for Singular's attribution service.

Integration Summary
(See Partner Integrations Glossary)
| | |
| --- | --- |
| Partner | TikTok For Business |
| Partner Type | Ad Network |
| Creatives | Supported |
| Publisher | Not Supported |
| View-Through | Supported |
| Re-engagement | Supported |
| S2S | Not Supported |
| Click Tag | Supported |
| Receiving All Installs | Attributed Only |
| Receiving All Events | Attributed Only |
Prerequisites
Integrate the Singular SDK (see Getting Started with the Singular SDK/S2S).
Get your TikTok App ID which is available in your TikTok Ads Manager dashboard. (

Please add N/A if you do not have a TikTok App ID. For more information on this please talk to your TikTok POC).
Setup Instructions
1. Partner Configuration
Review the Partner Configuration FAQ for general instructions for setting up a partner.
When passing in-app events to TikTok For Business, you also have to select the supported mapped event name: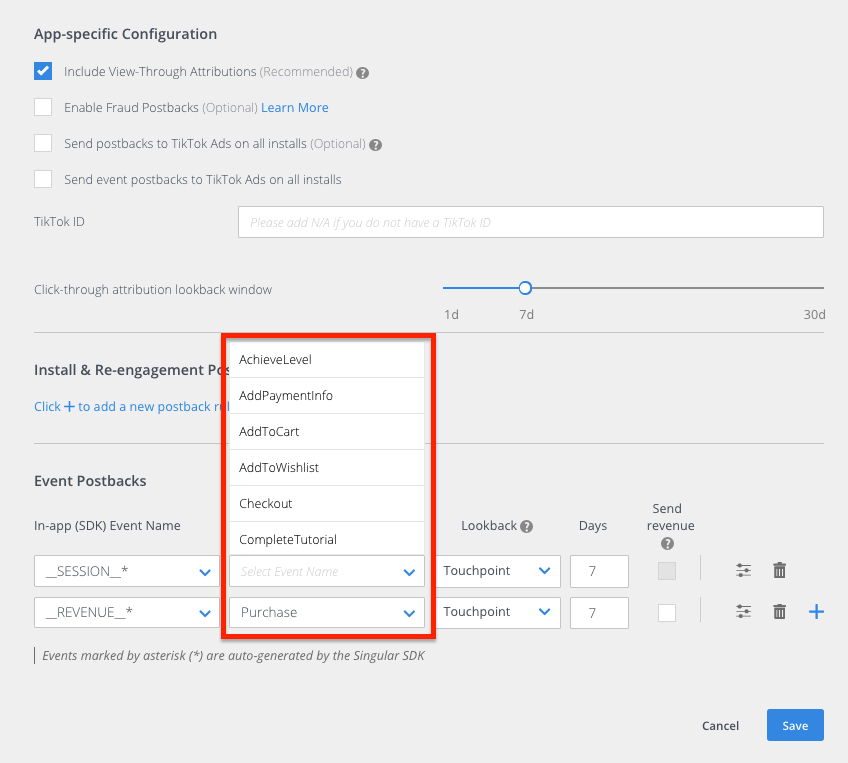 2. Tracking Link Setup
To generate a tracking link for TikTok For Business:
In your Singular account, go to Attribution > Manage Links and click Create Link.

Under Source Name, select "TikTok For Business".

Configure the rest of the link by selecting the desired app site and redirect options as usual. See the Singular Links FAQ for help.

If you want to use the link for retargeting campaigns (re-engagement), expand the Attribution Settings section and select Enable re-engagement tracking.

When you're done, click Generate.

You can now see and copy the click-through and view-through link with TikTok-supported macros to use with TikTok For Business.
For more information, see the Singular Links FAQ.
Partner Data Policies
As a TikTok MMP partner, Singular adheres to the following data handling requirements required by TikTok:
Data Retention
TikTok user-level data is removed after 6 months of original attribution. After 6 months, users attributed to TikTok are treated/marked as "Organic" and reflected as such in both aggregate and user-level reporting in Singular.