Singular is a Facebook Mobile Measurement Partner (MMP), which gives us a line of communication with Facebook to track install attribution. When Singular registers an install for an app, Singular communicates with Facebook and receives information about which installs originated from clicks on ads on Facebook.
However, you may find that Singular reports show different numbers of installs and events than the Facebook dashboard.
Such discrepancies do not necessarily indicate a problem. Singular and Facebook have different technologies and approaches to attribution, which may result in somewhat different reported metrics.
See also: Troubleshooting Discrepancies between Singular Reports and Ad Network Dashboard
Possible Configuration Issues
Is the Facebook data connector in Singular set up correctly?
To make sure, see the Facebook Data Connector guide.
Then, consider the possibilities below.
Do you have different lookback windows set up in Facebook vs. Singular?
The lookback window is a setting that determines how far back the attribution mechanism searches for an ad click (or ad view) to associate with the install event.
For example, if you set the lookback window to seven days, the attribution mechanism looks for relevant clicks in the seven days leading to the install. An ad click that occurred eight days before the install will not be considered as an attribution candidate.

If you set a lookback window in Singular for Facebook clicks, and set a different lookback window in your actual Facebook dashboard, this can cause discrepancies. One of the platforms will attribute installs to certain clicks, while the other platform will ignore those clicks as being too far back before the install.
We recommend setting the same lookback window on both platforms.
Note: There is a separate lookback window for views. If you run view-through campaigns, make sure you set the same view-through lookback window on both platforms.
For more information, see The Attribution Lookback Window.
Do you have two SDKs integrated?
If you've integrated both the Singular SDK and the Facebook SDK into an app, the app may be sending double reports about the same install event and subsequent installs. To avoid the problem, see Using the Facebook SDK and Singular SDK/S2S in The Same App.
Other Causes of Discrepancies
The following differences between Singular's and Facebook's technologies may cause data discrepancies.
Different Attribution Decision Logic
Users often view and even click on more than one ad before they install an app. Singular takes all clicks and views into account before making an attribution decision.
Even if Facebook reported a click on an ad in the Facebook platform within the attribution lookback window, Singular may attribute the install to another network, which had a click that was even closer to the install. Meanwhile, Facebook attributes the install to itself.
Click-Date
Cohort

vs. Install-Date Cohort

Singular shows post-install events in cohorts based on the date of the install (see What are cohort metrics?). In contrast, the Facebook dashboard shows installs as well as post-install events in cohorts based on the date of the ad click (or the ad view).

For example: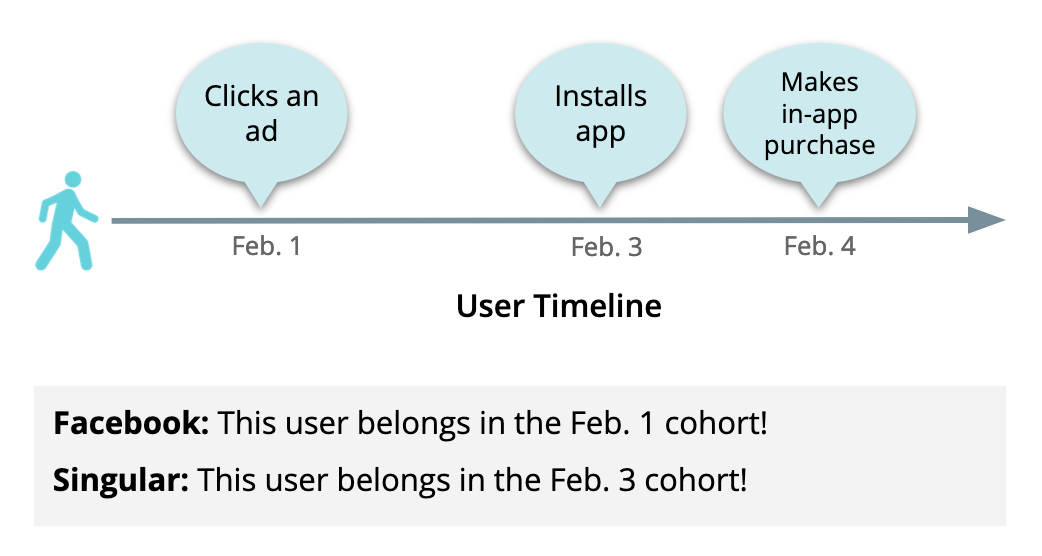 Different User Identification
Facebook shows conversion numbers based on an internal Facebook User ID, while Singular uses the Unique Advertiser ID to recognize distinct users. This can lead to discrepancies.
In addition, if a user has installed the app before, and then clicks on an ad for the app 6 months or more afterward, Facebook counts the user as a new one, while Singular considers them a recurring user. Therefore, Facebook may show higher numbers of conversions (new users) than Singular.